ANGARIKE MAALA (Meadow of Dodonaea)
LAND RESTORATION AND AGRO-BIODIVERSITY CONSERVATION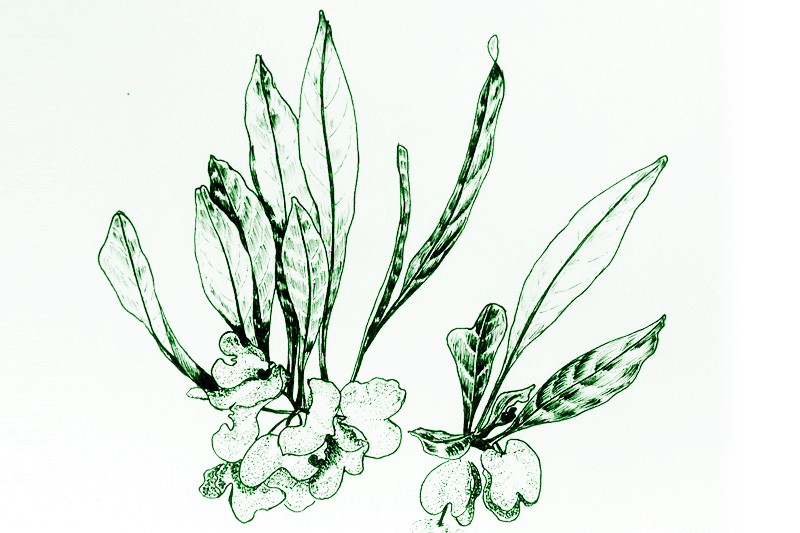 PUNARCHITH purchased a piece of abused and degraded land (6.75 acres) in Putanpura village, about 2.3 kilometres from Nagavalli village, where the resource centre is located. Although the land was purchased in 2014, it was formally registered only in April 2015, as we refused to submit to the demands for bribes and waited until we were able to get the registration done through due and legal processes. A detailed 'green-print' for the land was prepared by Sunita Rao and Alex Bouvard; specialised inputs and suggestions were provided by U. Ravi Kumar and Lalitha of Mysuru and by Shivkumaraswamy, an organic farmer from Chamarajanagar district. Hard work and persistence by P.Veerabhadranaika and H. Muthuraju have seen the cultivable portion transform into a green patch.

Bunds to harvest rain water, fencing (to ward off cattle and sheep grazing and unwanted visitors) and gates have been made. A dilapidated pump house has been renovated to make a tool and seed storage room. The existing coconut trees have been pruned and manured, and are now yielding coconuts. The two cultivating seasons of 2015 were used to grow 'navdanya' (nine grains: 3 pulses, 3 cereals, 3 oil seeds) which were mulched back into the land. Periodic testing of the soil indicates that humus, nitrogen, potassium, and phosphorous content have improved. The mungaru or kharif season of 2016 yielded a bounty of pulses (red and green gram), which we joyously shared with our friends and supporters.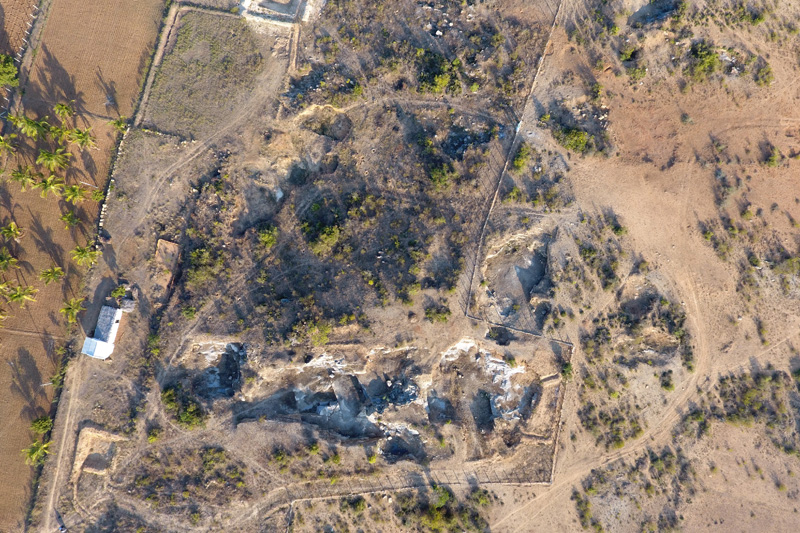 Watch Video introduction to Angarike Maala
Duration: 3:38 min. Credit: Raj
Yet, much more work needs to be done. The higher terrains consisting of rocky patches, granite quarries, and with strips of contaminated soil need to be restored appropriately. Water continues to be a problem as the sandy soil does not hold water or have the potential to have a water table.
The land is used for demonstrating both land restoration and agricultural practices to learners in the ILP course, farmers and interested persons. Plans are to further develop the land into an 'agro-biodiversity conservation cum demonstration' site and to have out-reach programmes for both local and non-local persons.
Work on the land continues; the soil is being monitored for changes and improvement, earth works such as bunds are being constructed, tree saplings planted, and two rounds of cultivation are undertaken every year. The challenges of cultivating the land for food crops and growing trees without adequate rainfall or supplementary irrigation continue. The post-monsoon saw the land turn green and a number of wild flowers and creepers made their presence. But the failure of the returning monsoon saw a dip in the productivity of crops and subsequently the land turned brown and bare. We continue to engage with the vagaries of the weather and hope to turn Angarike Maala into an ecologically sustainable and economically viable demonstration site.
Ms. K. Abhisheka has been undertaking periodic reviews of the state of biodiversity at Angarika Maala. This is the most recent report and indicates the changes that have taken place over the years. Click here for the report.
Five years since initiating restoration cum conservation work— is a turn-around year for Angarike Maala. The intermittent rains brought a host of newcomers to the land; mushrooms sprang up, as did a variety of creepers, flowers, shrubs and a multitude of grasses. The neem tree invited a small bee-hive and weaver birds wove their nests on the beautia tree. All-in-all a reassuring time for us, to see the land revive, express its wealth of local biodiversity, and show signs of encouragement to us. And, the most exciting was the yields of fruits: chikoos, pomegranate, papaya, passion fruit, and wit lemon, all in small quantities but which gave us immense pleasure.
We took some of the alumni from the Integrated Learning Course to see the land and they thrilled at seeing how the land has been transformed. A small film captures them on the land as they traverse the small 're-wilded' area; now full of grasses, shrubs, trees, and visited by a variety of butterflies, birds, rabbits and an occasional wild boar or two.