As the C-19 lockdown continued, and village residents grew restless with the lack of jobs and income, we initiated the MGNREGA works at three of the villages where our youth are active. Starting with only a few hundred people who enlisted for the work, by the end of the fortnight there were several hundred in all. In Nagavalli, about a thousand people worked on clearing and dredging various small lake beds around the village. In Doddmole village, the people worked on a large lake and cleared it off the weeds and debris. In Aralipura, several women were pleased to get the work and enlisted for the week long work. Payments were made in installlments and most have received payments. At the end of the fortnight approximately 16000 man hours of work were completed in the three villages.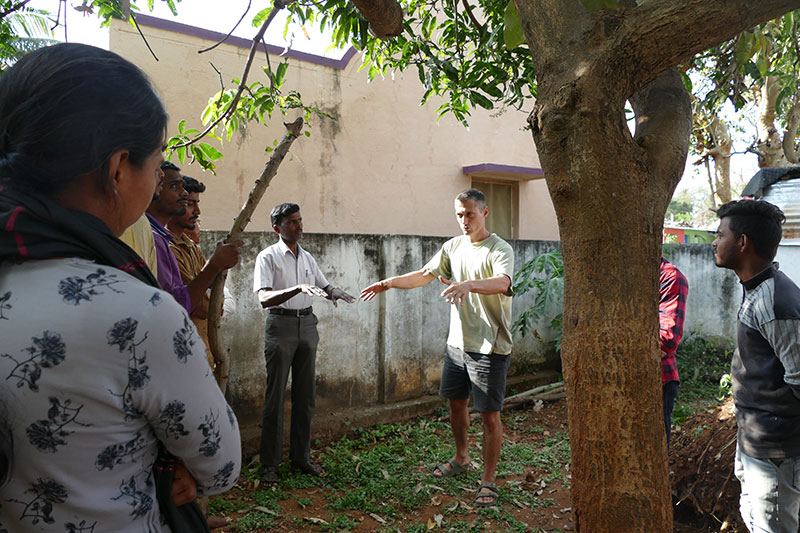 A visiting volunteer from Greece, Antonis has skills in several domains such as permaculture, hand-made soap-making, seed conservation etc. He spent two weeks with us between January and February 2020 and trained the youth in several of these skills including the making of 'hot compost'. The youth were particularly pleased to meet and interact with Antonis. He also gave us advice for improving the land at Angarike Maala. We hope to see him again at our centre.
Presentations and Discussions on Climate Emergency in Chamarajanagar District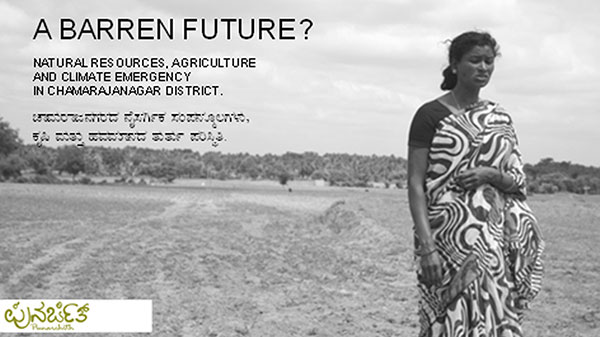 Since June 2019, we have made several presentations of our action research on agriculture, resource depletion and climate change in Chamarajanagar Dt. These presentations were made at our resource centre in Nagavalli to different groups of farmers, to visiting environmentalists such as Dr. Yellappa Reddy and Prof. G.S.Jayadeva, at the District Commissioner's office to the DC and to the officers of the key departments, to members of the Rotary Club at Chamarajangar, at Bengaluru to an audience of primarily civil society members, at B.R.Hills to members of the Solega Sangha. Plans are to continue to work on this out-reach and advocacy work during the year 2020 and to link it to policy issues at the state level.
GRAAM SETHU: Activities at Various Villages: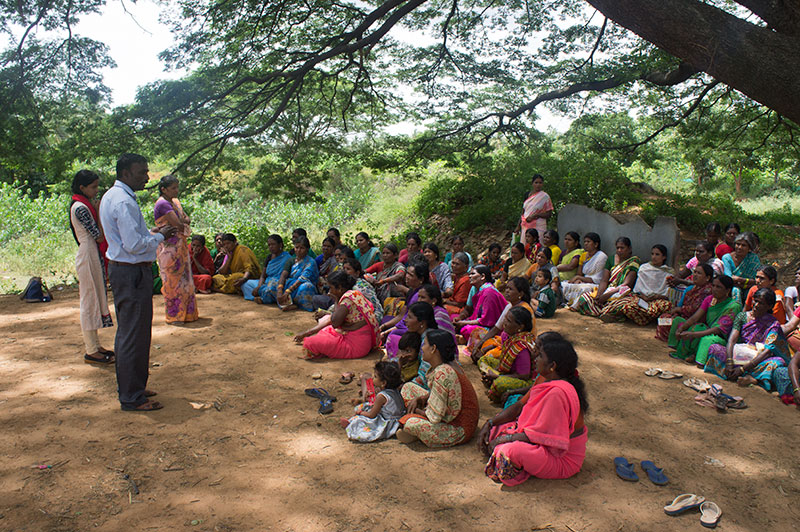 The annual hitala hita or open day for home gardening was held on October 16th. Many home gardeners from Nagavalli village and the surrounding villages attended the meet. Honnur Prakash, Sunita Rao, and Shivlinge Gowda spoke at the meet and called for a recognition of the importance of home gardens in securing food and nutrition security and enabling families to be resilient and independent. Honneru, the rural youth collective, also put up a stall as did Shivkumarswamy and H. Prakash, both well-known organic farmers.

---
OCTOBER, 16th, 2019: HITALA HITA or OPEN DAY FOR HOME GARDENING

The annual hitala hita or open day for home gardening was held on October 16th. Many home gardeners from Nagavalli village and the surrounding villages attended the meet. Honnur Prakash, Sunita Rao, and Shivlinge Gowda spoke at the meet and called for a recognition of the importance of home gardens in securing food and nutrition security and enabling families to be resilient and independent. Honneru, the rural youth collective, also put up a stall as did Shivkumarswamy and H. Prakash, both well-known organic farmers.

---
May 11th to 13th: Summer Camp for Children.

The summer camp for children was conducted by Ms. Nagaveni, an education specialist, from Bengaluru and Dr. Anu Joy from the TIFR Centre, Hyderabad with support from Suma and Mahalakshmi from PUNARCHITH. While Ms. Nagaveni developed several art related activities for the children, Dr. Anu Joy initiated a hands on experiment cum discussion on nature by introducing the foldscope (a miniature microscope). The children enjoyed the two-day sessions and were sorry to see the resource persons leave.
---
APRIL 26th and 27th: Yuva Chetana: Two-day Orientation for Youth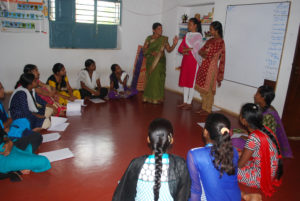 Thirteen girls, from standards X and PUC, attended the two-days orientation workshop. They participated in activities related to creative writing, understanding our environment, civic responsibilities, gender issues, and communication and continuous learning. Ms. Indumathi from Mysuru engaged them in a half-day session on career guidance. We were heartened to see that the girls who had come for the program the previous year had become more confident and were keen on persuing higher education.
---
WORKSHOP ON 'DEMOCRACY AND LEADERSHIP'; Chamarajanagar, March 31st, 2019

With general elections around the corner, we thought it important to have a workshop for rural youth on democracy. K. Thippeswamy was the key resource persons and the workshop was held at Deenabhandu School, Chamarajangar. Forty-three youth came for the workshop and participated keenly in it. The issues that were discussed were the following: The Indian Constitution and its Significance; the promise and problems of Indian elections; youth and their roles in democracy; democracy in our everyday lives. Plans are to continue this series on democracy and to widen the base of youth who attend these workshops.
---
RELEASE OF Dr. P. VEERABHADRANAIKA'S BOOK; FEBRUARY 27th, 2019: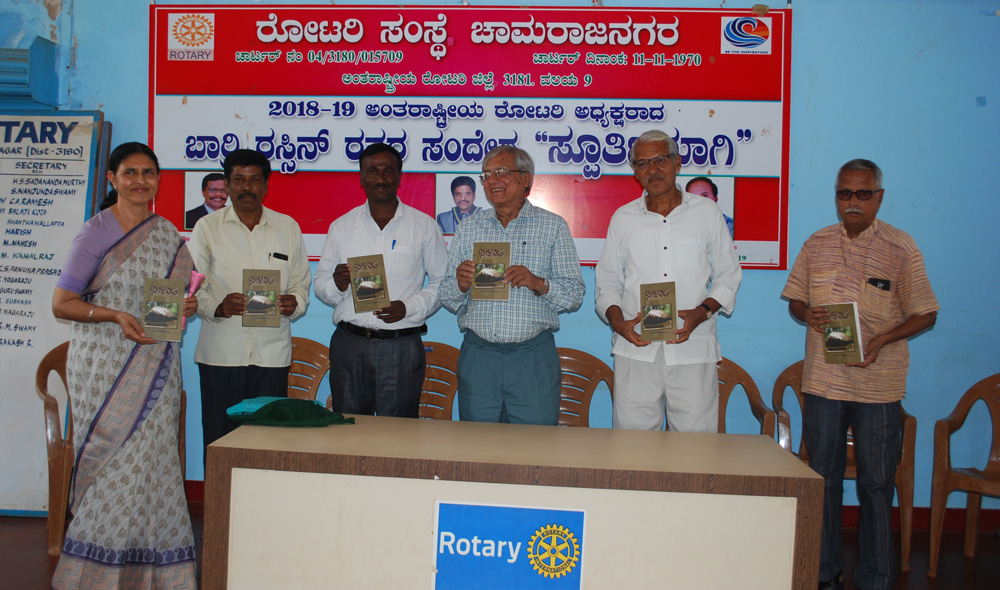 Punarchith organised a program for the release of Dr. P. Veerabhadranaika's book, 'NIJARU'. The book is a revised version of his doctoral thesis submitted to the University of Mysore. The focus of the book is on the state of ashramshalas in Chamarajangar district. Dileep Kamat, well-known activist and a leader from the community learning movement, released the book. In addition, Prof. G.S.Jayadeva, Shri V. Muthaiah, Shri Venkatraju, and the Principal, DIET, Chamarajanagar spoke at the event. It was attended by several members of the Soliga community and by the ILP youth.
---
January 12th to 18th, 2018 – Land and Lens': Photo Exhibit at Rangayana, Mysuru

From January 12th to 18th, 2018 the 'Land and Lens' photographs—taken by women from Sirsi and youth from Chamarajanagar were exhibited at Rangayana, as part of their annual 'Bahuroopi' festival. Batt Anderson and Sunita Rao curated the show with some technical/logistics support from Anil Chandran. The show was much appreciated by the visitors who represented a wide spectrum of socio-economic classes. The special visitors were Shri Devanoor Mahadeva, the well-known Kannada litterateur, and Shri Krishna Prasad, journalist and blogger. The youth photographers took turns to be at the exhibit and interacted with the visitors.
---
Dec 16th, 2018 – FINAL VALEDICTORY DAY FOR ILP BATCH 6th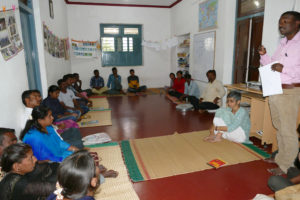 December 16th, 2018, was the final valedictory day for the ILP 6th batch. We had Berty Olivera, educationist and theatre specialist from Mysuru, as the special guest. Berty not only helped the youth to reflect on and summarise what they had learnt at the ILP course but also led them, through songs and poetry, to open up about their own future plans. The day-long session concluded with some beautiful singing and certificates were distributed to all the learners.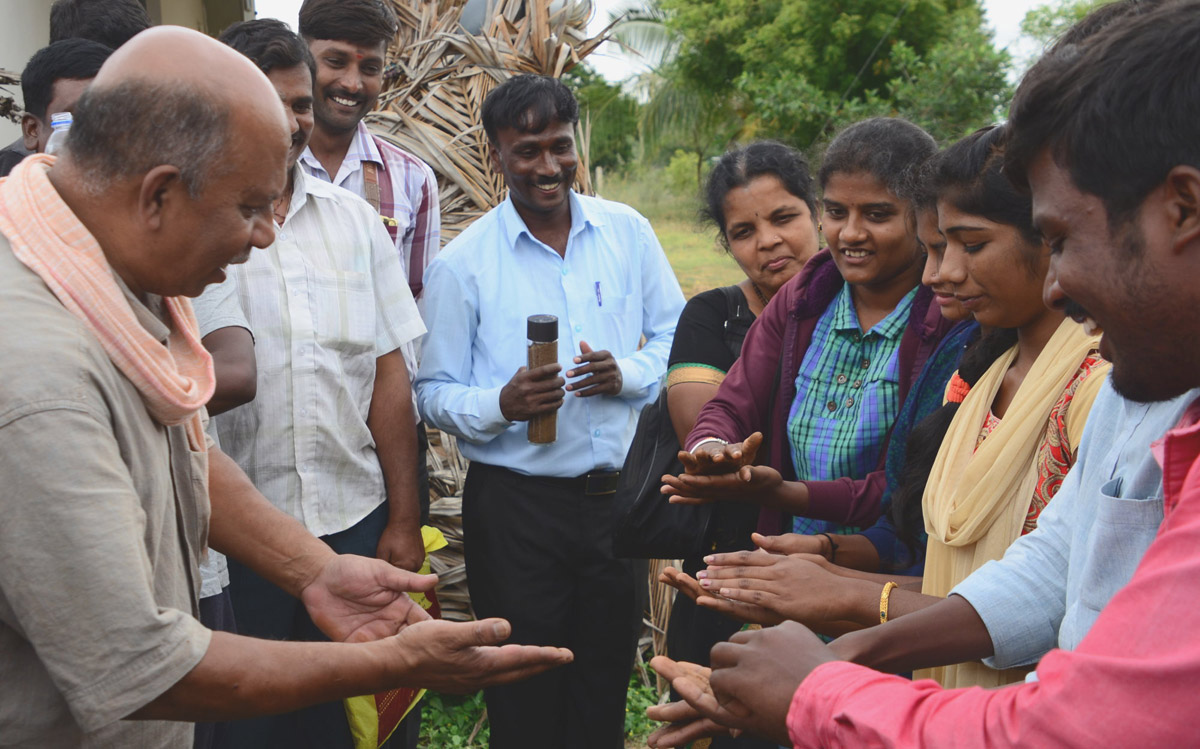 The sixth bath of the 'Integrated Learning Program' was inaugurated at our resource centre in Nagavalli. This year, the batch consists of eight learners who have come from outside Chamarajanagar district and twelve who are from the district.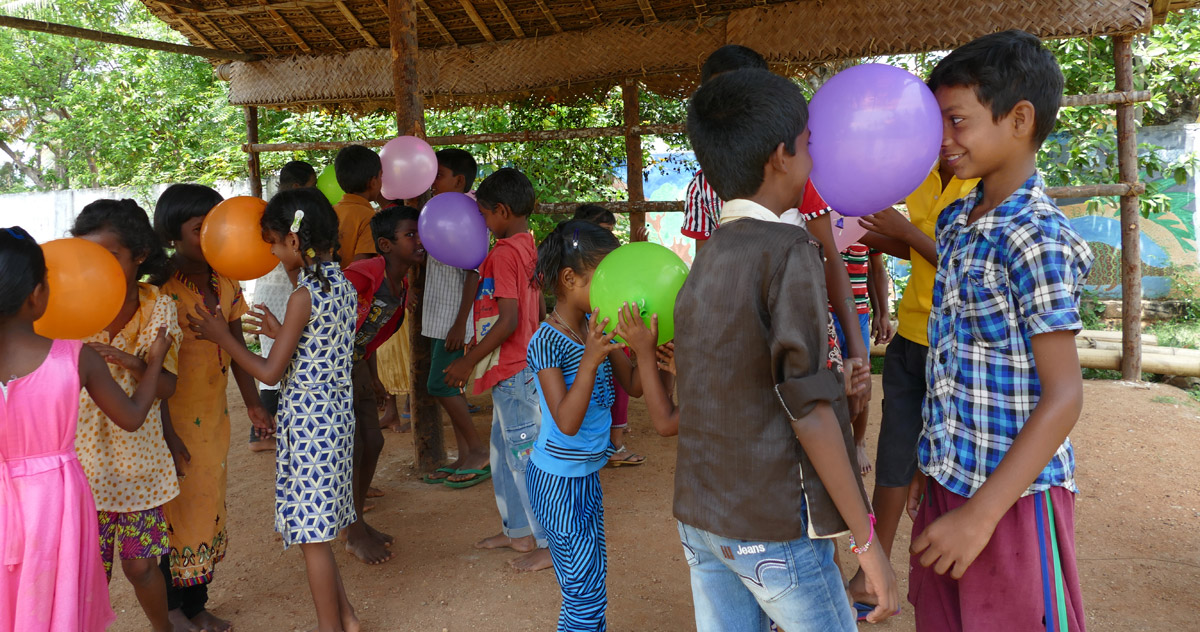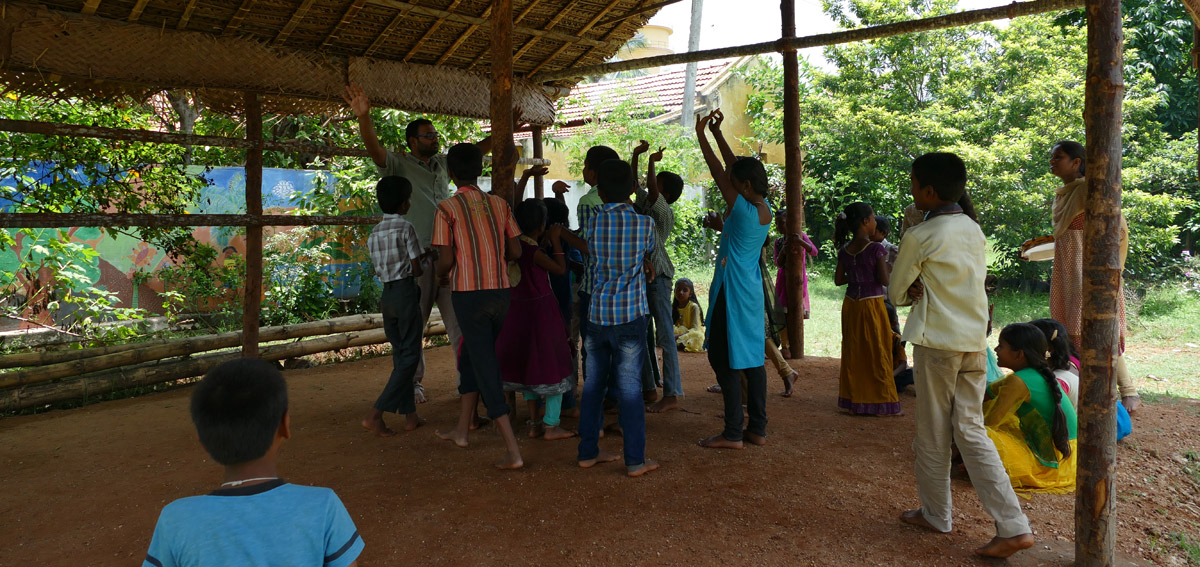 The summer children's programme was conducted by movement artist Veena Basavarajaiah and Vinay. They conducted free movement classes and extempore theatre sessions which the children enjoyed a lot.
After four months of training and orientation to photography (conducted by Matt Anderson), an exhibition (Mannu-Kannu or 'Land and Lens') of photographs by youth from PUNARCHITH and women from VANASTREE was held in Venkatappa Art Gallery, Bengaluru. The event drew a large number of people and was widely reported in the local newspapers.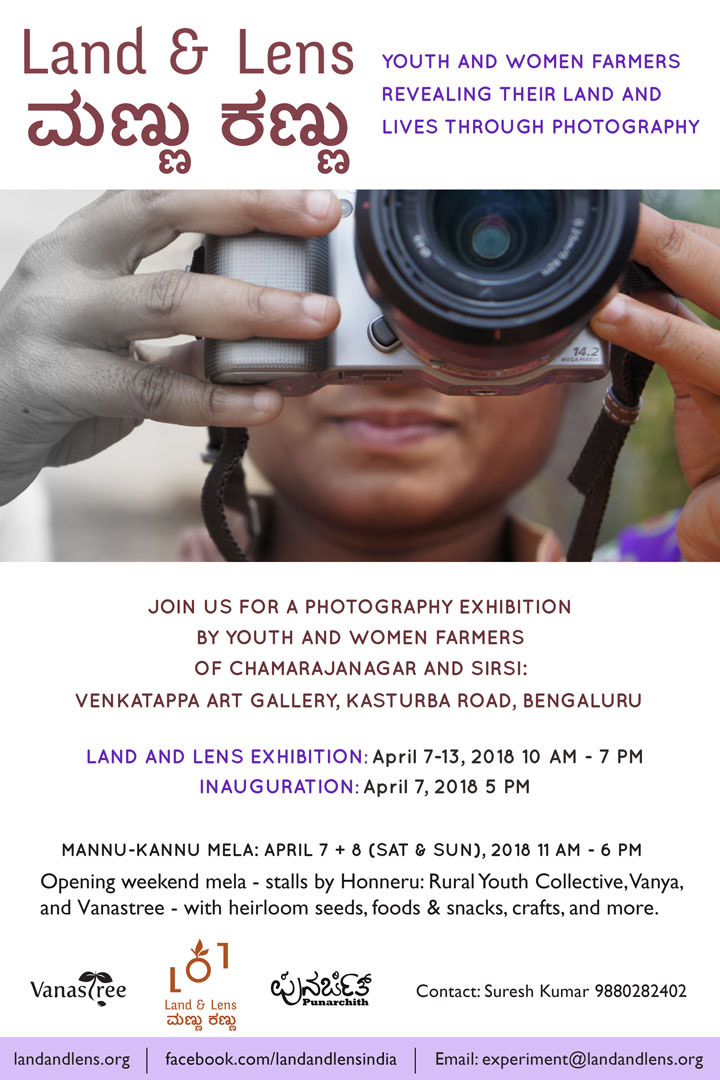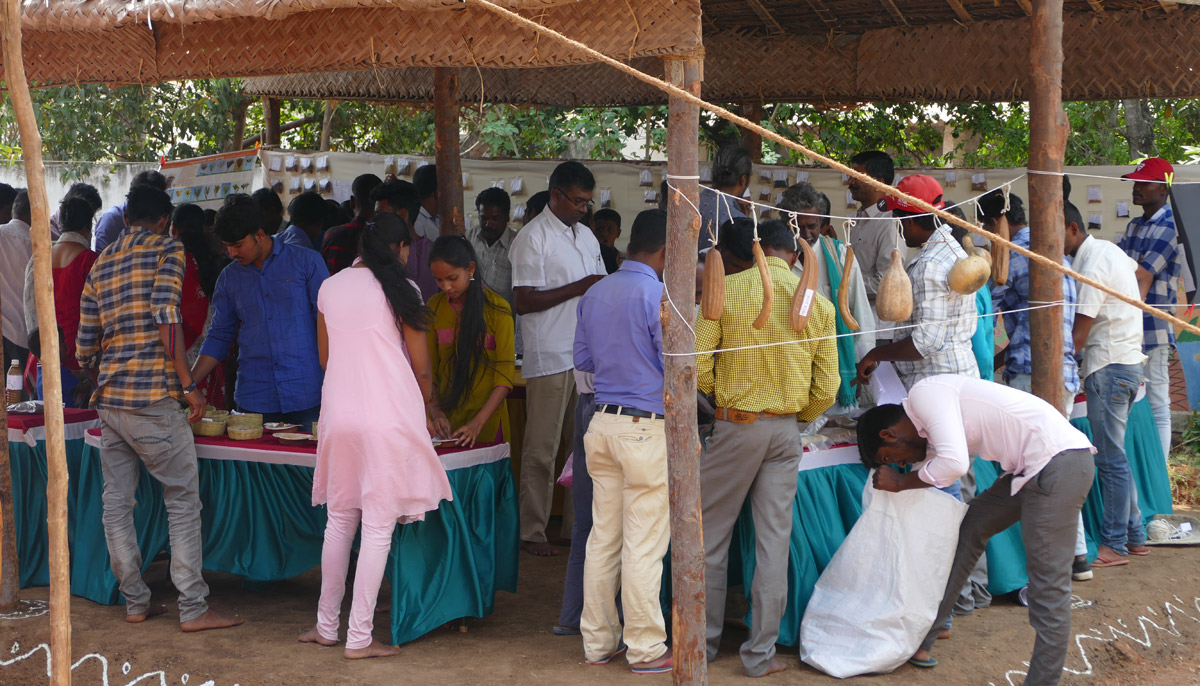 We held a one-day gathering or event called 'Beeja Baluvalli' (Seed Sharing) which focussed on promoting the use and conservation of local and organic seeds. Speakers included Smt. Kamalamma, Shri Mahadevswamy, and Shri Shivkumarswamy, all model organic farmers from Chamarajanagar district. A range of seeds (pulses, cereals, millets, vegetables, fruits, and oil seeds) and fresh produce of vegetables, tubers and fruits were displayed and also sold. About a hundred people including local farmers from Nagavalli were invited for the event.
In an attempt to prepare rural youth for the forthcoming state legislative assembly elections, we invited Shri Thippeswamy to conduct a session on democracy. All the former ILP students and some local youth were invited and they engaged in a range of discussions about the objectives, processes, challenges, and responsibilities of democracy. The centrality of the constitution and its contemporary significance were also discussed.
December 10th and 11th, 2017:
Paper Craft Workshop with Kokila Deshpande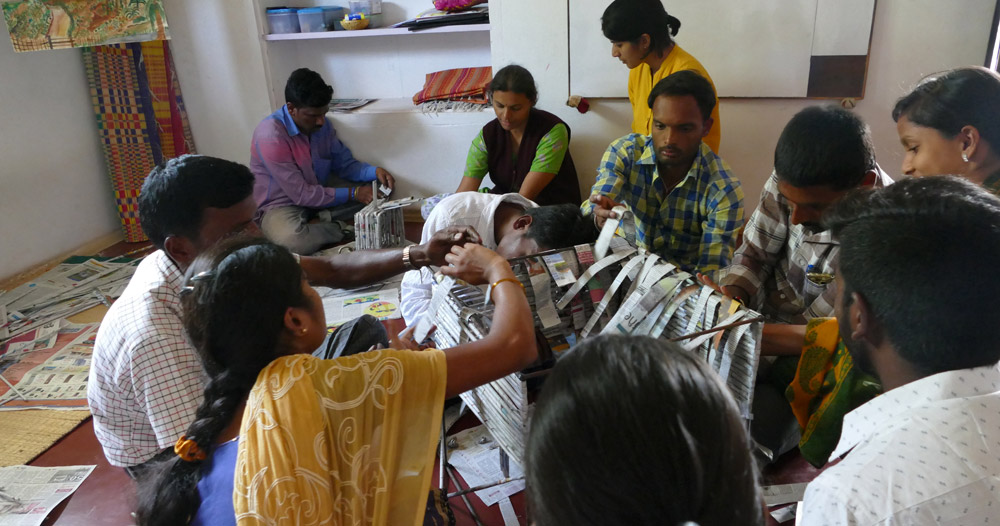 Kokila Deshpande conducted a paper craft workshop at PUNARCHITH's learning centre. The youth learned to make baskets, packets, and other items from used paper. She also demonstrated the making of cloth bags that can be used as substitutes for bubble wrap.
November 30th, 2017:
Visit by students and faculty of Massey University, New Zealand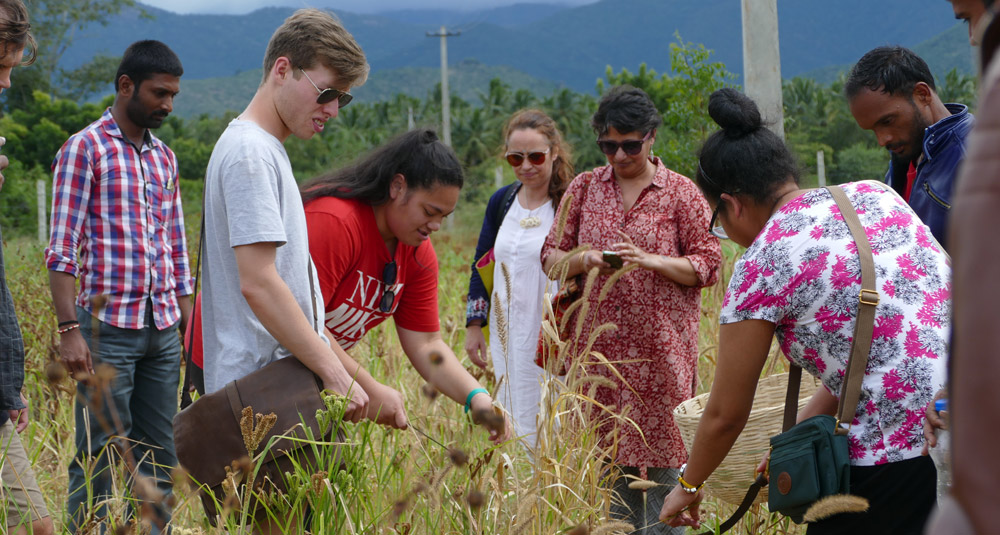 On November 30th, twelve students and two staff members from Massey University visited PUNARCHITH's learning centre and interacted with the youth learners. They asked questions about the ILP course and the impact it had on the youth's lives. Our youth asked the New Zealand students questions about their university experience and their visit to India.
November 20th to 24th, 2017:
Team visit to Kerala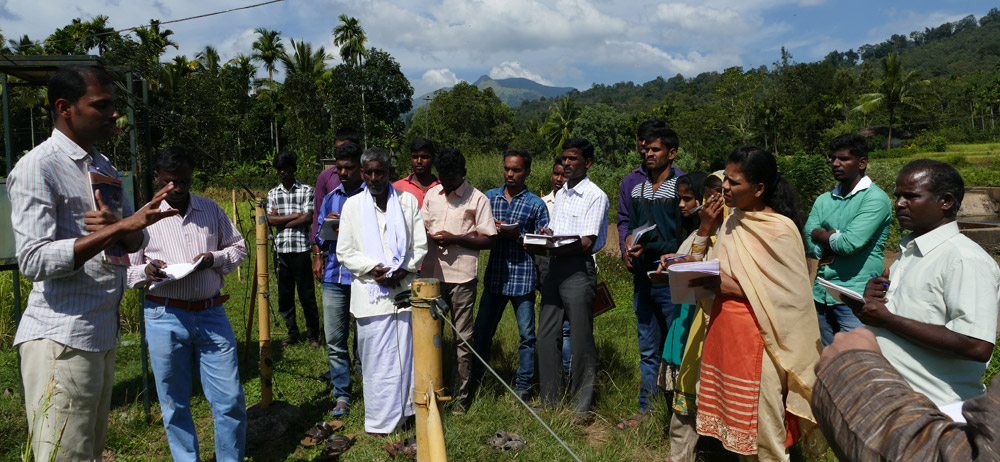 The annual field trip for the Integrated Learning Program alumni saw the team go to Kerala. Visits were made to Calicut/Kozhikode to see the work of agricultural cooperatives run by Kudumbashree and the labour cooperative run by Urangal. Later we visited the rice biodiversity fields established by the bio-diversity conservation group, Thanal, at Wayanad.
October 23rd and 24th 2017:
Awareness Songs for Youth
At a time of excessive media-based entertainment, it was important to get youth to reflect on issues that are central to their lives. Nada, a singer, sang songs called 'Kathale' or darkness songs which consisting of songs about the inner lives of people. These songs are sung while sitting in the dark with only a lamp or candle that is lit. The youth at Nagavalli and Doddmole villages responded positively to this initiative (held on the night of October 23rd and 24th) and it enabled us to have some open and frank discussions with them.
October 21st and 22nd 2017:
Sanitation Awareness Drive in Nagavalli Village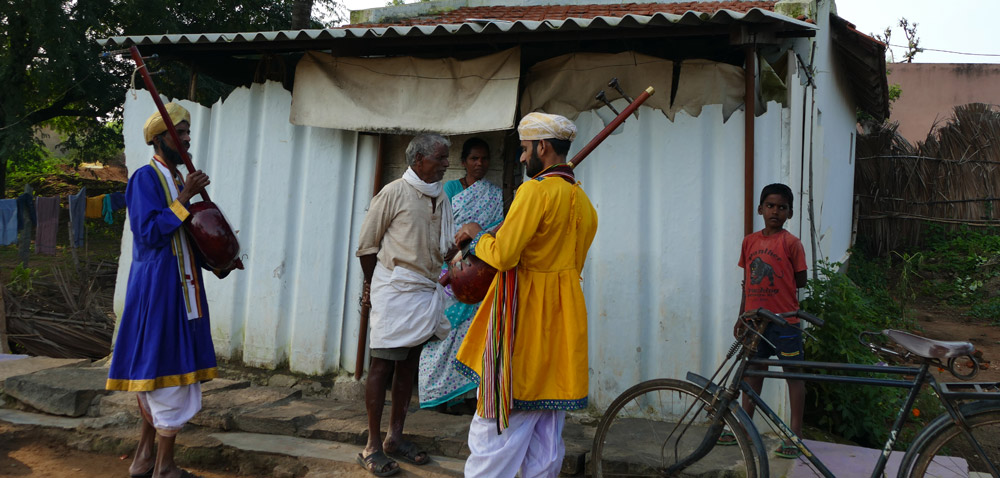 As part of our work on activating citizenship responsibilities for public and civic resources, we undertook an awareness program on sanitation. Team members went around the village and discussed issues about constructing and using toilets. On October 21st and 22nd, Janardhana Kesargadde and Nada dressed up as singing minstrels and holding a tanpura sang songs (which they composed) about the importance of sanitation, cleanliness, health etc. The village residents were very responsive to this form of cultural mobilisation and between October 2017 and January 2018, more than 100 toilets have been constructed.
SEPTEMBER 19th and 20th 2017:
Tree-planting drive in Nagavalli and Doddmole villages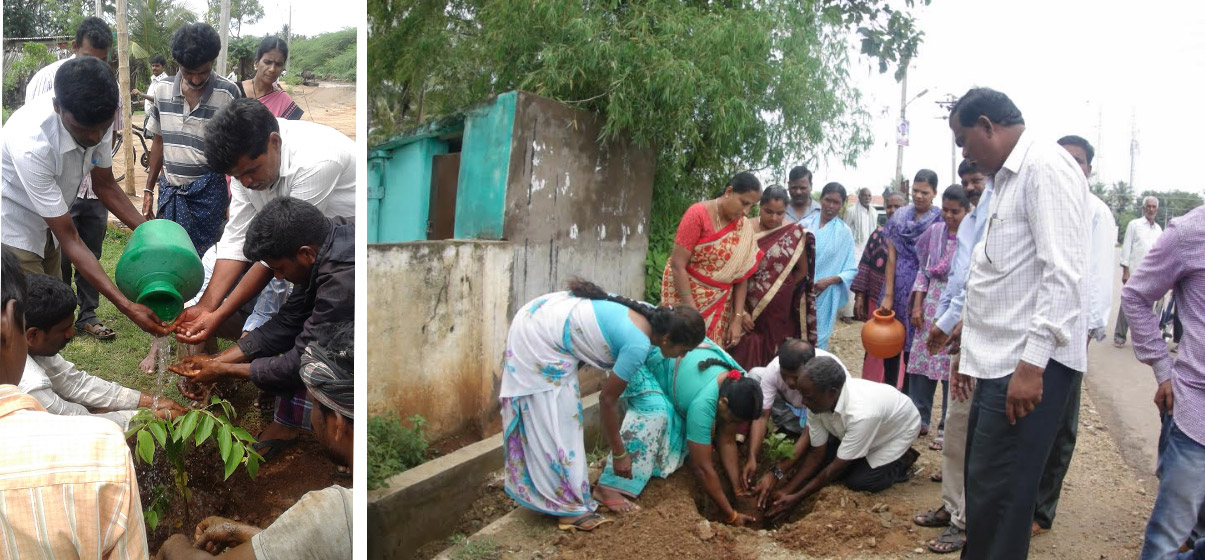 PUNARCHITH initiated a tree-planting drive in Nagavalli and Doddmole villages. A total of 90 trees (honge, arali, and beevu) were planted in the villages with the collaboration and support of elected panchayat members, PDOs, and village residents. Youth learners from the ILP course also participated.
SEPTEMBER 2nd, 2017:
An open day on millets.
Punarchith organised an open day on millets. This was part of the millet programme and was meant to promote the growth and use of millets in the area. A small patch of millets had been grown in the Nagavalli demonstration plot and despite the drought the crops had managed to survive. Dr. Dwijendranath, Punarchith's advisor for the millet programme, took different groups of visitors, who were mostly from the surrounding villages, around the plot and explained the various nuances and importance of growing millets. Later, a small discussion on millets was led by Janardhan Kesargadde, and ILP alumnus, Mahadevi, sang a song on millets, that was composed by Kesargadde. A meal consisting of millet pullao and a mixed millet payasa was served to all. Millet seeds for cooking and for planting were sold at the venue.
August 30th:
Final valedictory and play at Doddmole Village by ILP Batch V youth learners.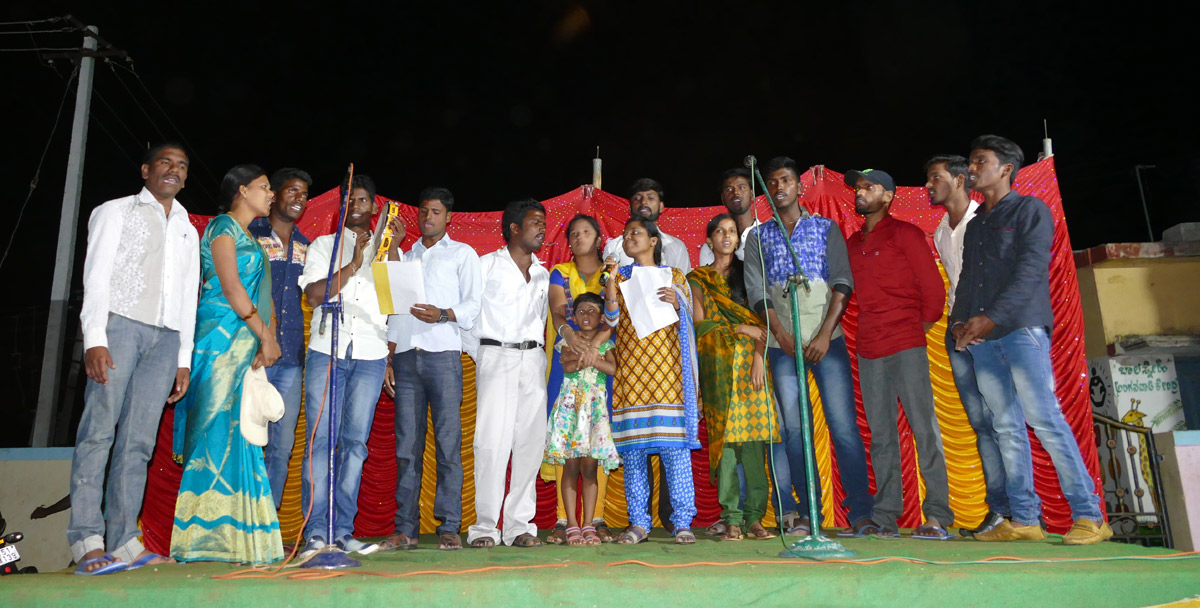 The valedictory programme for the fifth batch of the Integrated Learning Programme/course was held at Doddmole village. The participants presented a play, 'Ration Shop' which they had scripted and developed and which drew from real events in their village. The play was directed by Berty Olivera. The event was attended by many of the ILP alumni and by a large number of village residents, some of whom were parents of the ILP learners.
---
April 20th, Inauguration of the ILP Batch V.
---
May 15 to 30th: Inauguration of 'Sponsor a Field' programme and completion of land cultivation and sowing.
---
June 18th: An Open House and Gathering at Angarike Maala.
---
June 22nd: Malnad Mela at Sirsi
---
July 29th: Slide Show and final presentation of selected photographs of the ' 'Land and Life' programme.
---