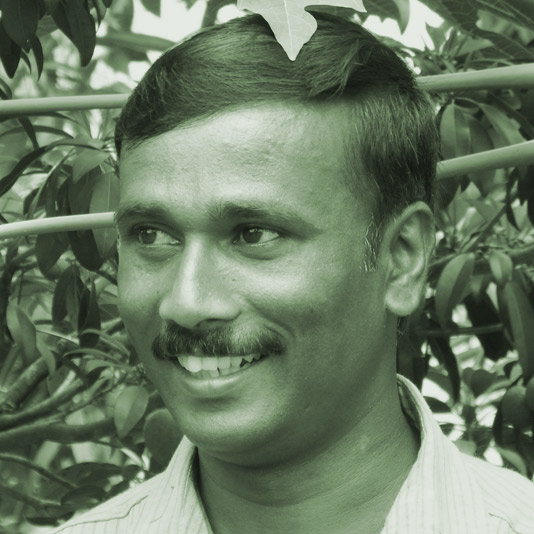 P. Veerabhadranaika has a post-graduate degree in gender studies and a doctorate in sociology from Mysore University. He has worked on elementary education, rights-based development, and in organising youth. He has conducted indepth studies on ashramshalas in Chamarajanagar district and has engaged in advocacy work related to improving education among tribals/adivasis. His areas of interest are critical development, rural sociology, and educational studies. One of the founder members of PUNARCHITH, Badri has conceptualised and conducted action research related to educational issues and agriculture. He has conducted training sessions on various aspects of school and community, child-centered learning and teacher development. His other areas of Interest are creative writing in Kannada especially poetry, essays, and stories. A keen agriculturist, he continues to work on the land and on developing the home garden at Nagavalli.
List of Publications:
A Study of Soliga Siddi Text Book and Tribal Language. Report Submitted to SSA, Karnataka, 2005.
A Case Study of a dysfunctional school. 2007.
Development of Personality and Skills or a reflexive note on working in District Quality Education Project (Including in the 'Mid Project Reflexive Essays brought out by NIAS in 2006).
Two Creative Local Texts for Children: (1) a collection of poems (2) On basket making. Published 2008. Vidyankura-BGVS.
Report on the States of Ashram shalas in Chamarajnagar District. (co-authored). Submitted to the Dept of Education, Govt.of Karnataka 2007.
Disadvantaged Tribal Children in Chamarajanagara Ashram shala Schools. Published by Kannada University, Hampi, 2010.
'The Education Question' from The Perspective of Adivasis : Conditions, Policies and Structures" (Co-author with three Others), Published by NIAS, Bangalore and UNICEF, March 2012.
Tribal Cultural Exploitation (Shoshanegolagagutiruva Budakattu Samskruti) Published by Andolana daily news paper, 29th April 2012.
Report on Situational analyses for Punajanur Panchayath youth in Chamarajangar (coauthored). Published by Punarchith, Chamarajanagar, April 2012.
Report on Situational Analyses of Punajanur Panchayath Villages in chamarajangar (coauthored). Punarchith Report, Chamarajanagar, April 2012.
Report on Land Use and Farmers' Choices in Punajanur Panchayath Villages in Chamarajangar (co-authored). Punarchith Report: Chamarajanagar, April 2012.
Shikshana Khsethra Hokka Jatikarana, Jagatikarana & Khasagikarana ! (Globalization, Privatization and Castes enter into the Education Systems). Published by Vijayakarnataka daily news paper, 29th October 2012.
"On Selection of Mysore University VC" . Published by Andolana Daily news paper, 25th January. 2013.
New Lease Agriculture and Its Implications: A Case Studay in the BRT Buffer Zone. Punarchith.2014.
Saamaajika Tallanagalu-Kaalajigalu-Kanasugalu. Festschrift for Prof. R. Indira.  (co-editor) Published by Roopa Prakasana, Mysore, 2015.
He has published essays in Kannada newspapers and is currently working on editing a set of case studies on government schools and developing a handbook on teaching social issues to youth. His book, Nejaru: Education and Development among Adivasis (in Kannada) is forthcoming from Roopa Publications, Mysuru.
At PUNARCHITH he is overall in-charge of the everyday functioning of the organisation and anchors the ILP course where he engages with issues related to social problems and Kannada writing. He also participates in external activities as a resource person.